INFORMATION SECURITY MANAGEMENT SYSTEM
An International Standard of Information
Security Systems for All | ISO 27001 Certification in 10 Working Days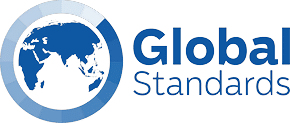 Success through management excellence
Global Standards is happy to guide and implement Information Security Management System ISO 27001 Certification in a way that it is easy to understand. It has excellent demand across organizations, Particularly in the E-Commerce and Information Technology sectors. i.e. Cyber Services. There are various advantages of ISMS to secure information from the challenges of threats, including external physical and virtual involvement. In late October 2022, the latest ISO 27001 was launched, the 3rd version of its transition record.
All ISO management system standards are subject to a regular review under the rules by which all are written. Following a substantial ISO user survey, the committee decided that a review was appropriate and created the following objectives to maintain its relevance to the current market on long-term bases.
© Global Standards. All rights reserverd for this documented information shared for reading purpose only.
White Paper - ISO 27001 Information Security Management System
ISO 27001 Certification in 10 Working Days
Controlled information is the lifeblood of an organization and can exist in many forms. It can be printed or written on paper, stored electronically, transmitted by mail or electronic means, shown in films, or spoken in conversation.
In today's competitive business environment, such information is constantly threatened by many sources. These can be internal, external, accidental, or malicious. With the increased use of new technology to store, transmit, and retrieve information, there has been a subsequent increase in the numbers and types of threats.
Information is critical to the operation and, perhaps, even the survival of your organization. Certified with I.S.O 27001 will help you manage and protect your valuable information assets. I.S.O 27001 is the only auditable international standard that defines the requirements for an Information Security Management System (ISMS). It is to ensure the selection of adequate and proportionate security controls.
This helps you protect your information assets and give confidence to interested parties, especially customers. This adopts a process approach for establishing, implementing, operating, monitoring, reviewing, maintaining, and improving your ISMS.
● Satisfaction of Internal Controls over IT
● Monitoring the internal affairs
● Enhancing customer confidentialities
● Achieving continual performance improvement in pursuit of these objectives
White Paper - ISO 27001 Information Security Management System
BENEFITS OF ISO 27001 STANDARD
● Demonstrates independent assurance of an organization's internal controls, therefore, meeting corporate governance and business continuity requirements
● Provides a competitive edge, e.g. by meeting contractual requirements and demonstrating to customers that the security of their information is paramount
● Independently verifies that organizational risks are appropriately identified, assessed, and managed while formalizing information security processes, procedures
and documentation
● The regular assessment process helps an organization continually monitor and improve
The I.S.O 27001 standard focuses on the significant keys of implementation.
● Define the scope of the ISMS
● An ISMS Policy
● Risk Assessment Approach
● Identify Risk
● Undertake a Risk Assessment
● Evaluate Risk Treatment option
● Select Control Objectives
● Prepare a Statement of Applicability
Secure Your Information
The Global Standards' selection for the consultancy of the "Information Security Management System" standard will enhance the implementation with planned manners to come up with outstanding results of the plan, do, check & act. We know how to start and where to end the working of ISMS for your organization in which, without any delay of operational time, work for the standard and ensure the timely completion of the project have completed public and semi-public projects against the ISMS requirements of the standard. ISO 27001 requires controls over risks associated with the "Statement of Applicability", which we came up with the operational controls.
The professional consultants, experts and auditors work for clients to ensure the information security management system is effectively established, implemented, maintained and continually improved to meet customers' growing expectations and legal Statutory requirements for the organization. Your selection of Global Standards Consultants (Pvt) Ltd for ISO 27001 Certification will be the best decision, and you will not regret working with us.
We provide the services of ISO 27001 Certification, Preparation, Documentation of SOP & Processes Instructions, Consultancy, and Training for clients who wish their system to remain free from any risk and think a step ahead of only applying the operational controls and enhancing the information security management system. Contact Us for the Best Services at the Cost-Effective Prices. Call or WhatsApp at 0306_2708496 or Apply Here
©  Global Standards. All rights reserverd for this documented information shared for reading purpose only.