INFORMATION TECHNOLOGY SERVICE MANAGEMENT SYSTEM
An International Standard of Information
Technology Service Management System. An ISO 20000-1 Certification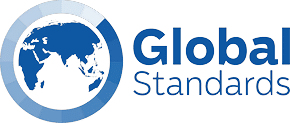 Success through management excellence
Global Standards is happy to guide and implement Information Technology Service Management System ISO 20000-1 Certification in an easily understood way. It has excellent demand across organizations, Particularly in the E-Commerce and Information Technology sectors. i.e. Cyber Services. There is indeed a number of advantages of ITSM to define the requirements for the development, implementation, monitoring, maintenance, and continuous improvement of an IT service management system (SMS).
All ISO management system standards are subject to a regular review under the rules by which all are written. Following a substantial ISO user survey, the committee decided that a review was appropriate and created the following objectives to maintain its relevance to the current market on long-term bases.
©  Global Standards. All rights reserverd for this documented information shared for reading purpose only.
White Paper - ISO 20000-1:2018 IT Service Management System
ISO 20000-1  Certification
Adopting an SMS entails making a strategic choice influenced by your goals, the governing body, other participants in the service lifecycle, and the requirement for efficient and dependable services. Operating an SMS after implementation will offer continuous visibility, better and centralised control of services, and continued improvement, resulting in greater efficacy and efficiency.
Although the ISO 20000-1 standard was first released in 2011, modifications in 2018 aligned the clause structure with the typical high-level structure (HLS) for management system standards, making it more straightforward for you to align or integrate numerous management system standards. An SMS can be integrated with, for example:
ISMS ISO/IEC 27001
QMS ISO 9001
BCMS 22301
What are the requirements of ITSM
Similarly, like other latest versions of the ISO standards, as mentioned above, the standard of ITSM also follows the HLS of Annex-L. Therefore, it falls under the following requirements in the form of clauses and sub-clauses:
1. Context of Organization
Organization and its Context
Interested Parties
Scope of the SMS
Establish the SMS
2. Leadership
Leadership and Commitment
Policy
Roles, Responsibilities, and Authorities
3. Planning
Risks and Opportunities
Objectives
Plan the SMS
4. Support
Resources
Competence
Awareness
Communication
Documented Information
Knowledge
5. Operations
Operational Planning & Control
Relationship and Agreement
Service Design, Build, & Transition
Service Portfolio
Supply & Demand
Service Assurance
6. Performance Evaluation
Monitoring, Measurement, Analysis, & Evaluation
Internal Audit
Service Reporting
Management Review
10. Improvement
Nonconformity and Corrective Action
Continual Improvement
● Satisfaction of Internal Controls over IT
● Monitoring the internal affairs
● Enhancing customer confidentialities
● Achieving continual performance improvement in pursuit of these objectives
White Paper - ISO 20000-1:2018 Information Technology Service Management System
BENEFITS OF ISO 20000-1 STANDARD
Competitive Advantage: Implementing an SMS will enable you to provide more efficient and effective services; its reliability, including the independent certification certifying this, will set you apart from your rivals.
New Doors Opened: To compete, contractors must first obtain ISO 20000 certification to transact business with the American federal government.
Increased Internal Productivity and Control: Since everything will be standardised, including the creation of papers for pertinent policies and procedures, your staff members should work more effectively and with less misunderstanding.
Potentially Lower Compliance Costs: With a certified SMS in place, it would be simpler and less expensive to comply with requirements like Sarbanes-Oxley and PCI DSS, which could be reduced by implementing this standard.
Being ISO 20000-1 certified will require you to consistently consider the wants and worries of your consumers and adjust your business practices accordingly. Thanks to a deeper grasp of your service management, you'll be able to identify potential for improvement in other areas.
Increased Client Confidence: And, of course, the most significant benefit of all—ISO 20000-1 and its focus on excellent service will ensure you gain more points with your customer base.
The I.S.O 20000-1 standard is based on the major keys of implementation.
● Define the scope of the ITSMS
● An ITSMS Policy
● Risk Assessment Approach
● Identify Risk
● Undertake a Risk Assessment
● Evaluate Risk Treatment option
● Select Control Objectives
Services Management of Technology
Selecting the Global Standards for the "Information Technology Service Management System" certification will enhance the implementation with planned manners to come up with outstanding results of the plan, do, check & act. We know how to start and where to end the working of ITSMS for your organization in which, without any delay of operational time, work for the standard and ensure the timely completion of the project have completed public and semi-public projects against the ITSMS requirements of the standard. ISO 20000-1 certification requires controls.
Our professional consultants, experts and auditors work for clients to ensure the information security management system is effectively established, implemented, maintained and continually improved to meet customers' growing expectations and legal Statutory requirements for the organization. Your selection of Global Standards Consultants (Pvt) Ltd for ISO 20000-1 Certification will be the best decision, and you will not regret working with us.
We provide the services of ISO 20000-1 Certification, Preparation, Documentation of SOP & Processes Instructions, Consultancy, and Training for clients who wish their system to remain free from any risk and think a step ahead of only applying the operational controls and enhancing the information security management system. Contact Us for the Best Services at the Cost-Effective Prices. Call or WhatsApp at 0306_2708496 or Apply Here
©  Global Standards. All rights reserverd for this documented information shared for reading purpose only.